West Buttress
Westliche
Stützmauer
Le Contrefort
de l'Ouest

South Buttress
Südliche
Stützmauer
Le Contrefort
du Sud

Muldrow Glacier
Muldrow
Gletscher
Le Glacier
Muldrow

West Rib
Westliche Rippe
La Côte
de l'Ouest

Cassin Ridge
Cassin Kamm
La Crête Cassin

Coming Soon
Doug Scott &
Dougal Haston's
South Face Direct

Notice & Disclaimer

This map and
the climbing
descriptions can
only serve as
general guides to the
five major routes on
Mt. McKinley because
of daily and seasonal
conditions.

On a big mountain,
no guide or map
can safely be
substituted
for good
mountaineering
judgement.

Copyright © 2001
by Dennis Cowals.
All rights reserved.

Ice axe and rope logo
copyright © 2001
by Dennis Cowals.

Mountaineers edition
copyright © 1981
by Dennis Cowals
ISBN 0-89886-020-2.

First edition
copyright © 1976
by the Alaska
Alpine Company.

Online:

Ken Bayne's
Mt. McKinley (Denali)
Climbing
Guide

Carl Ockier's
Climbing Dictionary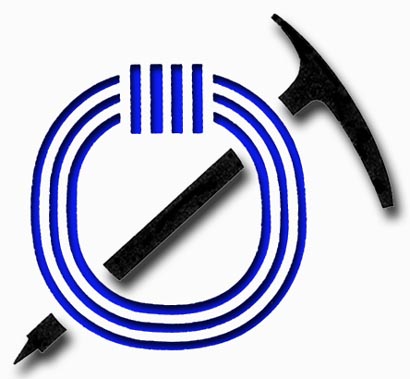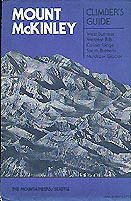 North to Alaska?
These friends
are good folks
to contact.
We've shared
many climbs,
rescues and
adventures
over the years.

EQUIPMENT:

Equipment
Climbing equipment needed for an expedition to Mt. McKinley is basically the same as that needed for a high mountain ascent anywhere in the world, only with greater emphasis, perhaps, on items of clothing capable of keeping climbers warm and dry.

Polarguard sleeping bags, for example, have proven more effective when wet than down bags. Some climbers now use both types in combination, slipping a down bag inside a synthetic outer bag to increase insulation in wet conditions.

Pile garments have very much come into their own in recent years. Now, they're almost standard as part of the mountaineer's uniform. On McKinley, they have proven to be very practical, especially if worn under wind-proof shell parkas of nylon or Gore-Tex. Much lighter than the traditional heavy woolen sweaters, pile sweaters and zip-front jackets have proven themselves more versatile and much faster drying than wool.

Synthetic plastic and nylon double climbing boots are replacing traditional leather double boots; and they have proven adequate to McKinley's temperature demands. Insulated gaiters and overboots are still preferred by many climbers. But the warmest boot of all is still the U.S. Army surplus vapor barrier boot which was originally developed during the Korean War. They're available as Korean Boots or Mickey Mouse Boots, or as VB Boots at many surplus outlets. However, they are not well suited to McKinley's more technical routes. Import copies, unfortunately, have not been as durable or as warm as original U.S. Army surplus fabricated by American manufacturers.

More and more climbers are carrying 10-foot squares (3 meters by 3 meters) of heavy black plastic for use as solar stills to melt snow for drinking water. In June and July, when daytime temperatures soar, the black sheets can melt an entire party's water supply during the day while climbers are relaying loads. Their use helps conserve fuel which may be needed during a storm emergency higher on the mountain.

Children's plastic sleds, likewise, have been found to be of considerable value on long, relatively flat approach marches across glaciers or snowfields. It's easier to pull a load than to carry one. Using the bathtub-shaped sleds also makes it easier to remove equipment and trash from the mountain, a practice highly recommended by the National Park Service and environmental groups.

If fixed rope is used, three-eighth inch (9mm) polypropylene is usually satisfactory. However, on critical sections such as the Japanese Couloir, it is recommended that 8 or 9mm kernmantle rope be used for safety.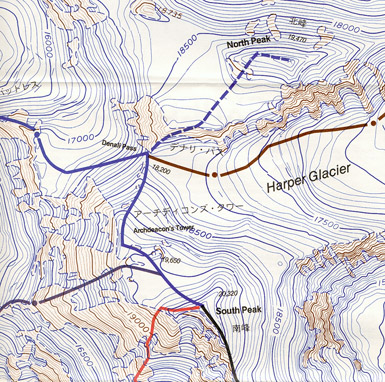 Mt. McKinley Summit 1:25,000 scale - adapted from U.S.G.S.


West Buttress Muldrow Glacier
West Rib Cassin Ridge South Buttress
PERSONAL EQUIPMENT


U.S. Army surplus Korean (vapor barrier)
boots,* or double boots with gaiters or
overboots**

Crampons

Skis with ski-mountaineering bindings,
climbing skins and poles, or 10 x 56-inch
(25 x 140-cm) snowshoes

Ice axe* and piton/ice hammer**

Seat and chest harness
with locking caribiners

Helmet**

Four carabiners,* or more**

Three Prussik slings,* or Jumar, CMI,
Petzl or Clog ascenders and foot slings**

Three ice screws (tube type)

Four pairs of wool socks

Underwear

Knickers or long wool trousers

Wool shirt and sweater

Down parka and pants

Wind parka and pants

Cagoule or poncho (for rain
on the Muldrow approach)

Sun hat and wool stocking cap

Balaclava or face mask

Two pairs of light gloves
(wool, silk or nylon)

Two pairs of heavy wool mittens,
and one pair of nylon shells

One pair of down mitts

Down or Polarguard sleeping bag
rated to -40° F/C

Insulating pad

Large capacity packframe,*
or large soft pack**

Two pairs of climbing goggles

Personal First Aid kit, prescription
medications, toothbrush & toiletries

Diary and pens or pencils

Camera with extra batteries and film

Plastic mixing bowl, cup and spoon

Bandanna or small towel

Two widemouth, liter water bottles

Pocket knife

Compass

Two plastic butane lighters

Headlamp with spare bulb and batteries

Plastic sled 17 x 48 in. (40 x 120 cm)


GROUP EQUIPMENT


One 120-foot x 9mm climbing rope for every two
climbers,* or one 150-foot x 11mm climbing rope**

One spare rope for crevasse rescue

Fixed rope: 1,000 - 5,000 feet (or more)
of 3/8ths inch (9mm) polyproplyene rope.
(Available locally in Anchorage from
Alaska Industrial Hardware and others.)

One pump stove for every two or three climbers

Aluminum or stainless steel cooking pots
and utensils

Liquid soap, scouring pads, etc.

One-half pint of fuel per climber per day.
Five gallons (19 liters) is usually sufficient
for a four-man party.

Tents: four-man tent with rainflys,*
or two-man tents with rainflys**

Two large, aluminum shovels (grain scoops)

Two snow saws

Food: 4,000 - 5,000 calories per climber per day
- about 2 pounds (890 gm) per climber per day

200 flagged willow wands,*
or 100 flagged willow wands**

Repair kit for stoves, tents, packs,
ski and snowshoe bindings, etc.

Medical kit

Spare crampons (adjustable),
ice axe and sun glasses

Paperback books, chess/checkers set,
playing cards, etc.

* Recommended for West Buttress
and Muldrow Glacier Routes.
** Recommended for West Rib,
South Buttress and Cassin Ridge.





All equipment needed for an expedition to Mt. McKinley is available in Anchorage, normally the starting place for most groups. No equipment is available at Denali National Park & Preserve. Climbers planning to obtain needed equipment in Alaska should contact suppliers in advance to make certain items are available.

Two Talkeetna climbing shops now offer equipment sales and rentals, including sleds, white gas, CB radios, maps, photos, ice axes, snow saws, skis, snowshoes, overboots, snow pickets, wands, and a variety of last-minute items.

Talkeetna Outdoor Center
P.O. Box 748
Talkeetna, AK 99676
Phone and Fax: (907) 733-4444
Toll-Free: (800) 349-0064

Windy Corner
Downtown Talkeetna
Talkeetna, AK 99676
Phone: (907) 733-1600



| HOME | Cassin Ridge | Muldrow Glacier | South Buttress | West Buttress | West Rib |