Climbing Alaska's
Mt. McKinley has been described alternately
as a long walk in the snow, or as one of the most difficult high mountain ascents in
the world, depending


The Expedition
That Fell From
The Sky

on the route being climbed and conditions encountered along
the way. Even in mid summer, conditions on North America's tallest mountain are arctic in character. During the two- to four-week ascent, most parties encounter
temperatures ranging from + 70° to - 40° F.
(+ 27° to - 40° C.). Winds in excess of 100 m.p.h. (160 k.p.h.) are not uncommon.


Individual storms sometimes last two weeks, making it imperative that climbers prepare for at least a month's climb on easier routes and as much as six weeks on difficult routes. Although nearly 3,000 climbers have stood on its 20,320-foot (6,194-meter) summit since the first ascent in 1913, none have treated the mountain casually. Over forty have died on its slopes. As on big mountains elsewhere, hidden crevasses have taken unnecessary lives. Climbers should always travel roped, no matter how easy the terrain appears. Expeditions
planning to attempt
Mt. McKinley must register at least two months in advance with the National Park Service and should complete all preparations before coming to Alaska, including arrangements for a radio and charter air transportation. Climbers should also plan on removing all their equipment and trash from the mountain.


West Buttress
Westliche Stützmauer
Le Contrefort
de l'Ouest

South Buttress
Südliche Stützmauer
Le Contrefort du Sud

Muldrow Glacier
Muldrow Gletscher
Le Glacier Muldrow

West Rib
Westliche Rippe
La Côte de l'Ouest

Cassin Ridge
Cassin Kamm
La Crête Cassin

Coming Soon
Doug Scott &
Dougal Haston's
South Face Direct

Notice & Disclaimer

This map and the climbing descriptions can only serve as general guides to the
five major routes on
Mt. McKinley because
of daily and seasonal conditions. On a big mountain, no guide
or map can safely be substituted for good
mountaineering
judgement.

Copyright © 2000
by Dennis Cowals.
All rights reserved.

Ice axe and rope logo copyright © 2000
by Dennis Cowals.

Mountaineers edition copyright © 1981
by Dennis Cowals
ISBN 0-89886-020-2.

Original edition
copyright © 1976
by The Alaska
Alpine Company.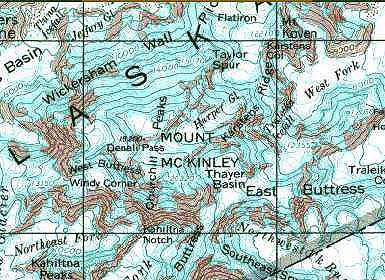 Mt. McKinley 1:250,000 scale - U.S. Geological Survey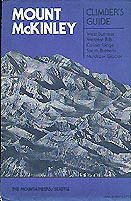 Denali National
Park & Preserve
Mountaineering
Guidelines,
Regulations
& Information
Mountaineering in
Denali National Park
& Preserve
National Weather Service
Alaska Region
Denali National Park
Weather Forecast
Wind Chill Calculator


North to Alaska?
These friends
are good folks
to contact.
We've shared
many climbs,
rescues and
adventures
over the years.
South Buttress
Südliche Stützmauer - Le Contrefort du Sud

FIRST ASCENT: June 19 to July 3, 1965 by Shiro Niahimae, Masatsugu Kajiura and Hisazumi Nakamura. From their advance base camp on the East Fork, five Japanese climbers recognized extreme avalanche danger on their planned South Face route and instead turned their attentions to the South Buttress. They ascended the avalanche-prone icefall and placed a high camp at 15,570 feet in the col of the South Ridge of the mountain. Ascending the southeast ridge toward the 18,960-foot shoulder, they were forced to bivouac by bad weather. At this point, Dt. Yoshito Tsukazaki, the expedition leader, elected to stay behind because of altitude sickness. On the long, curving summit ridge, another climber, Katsuhiko Kaburgai, fell victim to nausea and stayed behind at Carter Horn while the others went on to the South Summit. (Parties climbing the route over the years since the first ascent have generally placed more camps than the Japanese. They've reported moderate snow, ice and rock climbing generally less difficult than found on the West Rib.)

POINT OF DEPARTURE: Southeast Fork, Kahiltna Glacier
ALTITUDE GAIN: 13,320 feet (4,060 meters)
ROUND TRIP DISTANCE: 26 miles (42 kilometers)
TIME: 15 to 30 days
CRUX: The icefall between 12,000 and 15,000 feet (3,658
and 4,725 meters) is generally regarded as the
&nbsp greatest hazard on the route, but weather conditions
&nbsp can make any section -- especially the higher ridges
&nbsp -- dangerous and more difficult
SPECIAL EQUIPMENT: 1,200 feet (400 meters) of fixed
&nbsp rope and six snow pickets; six ice pitons; and
&nbsp 12 rock pitons (mostly small and medium angles)

ROUTE: From the landing area on the Southeast Fork of the Kahiltna Glacier, move west to join the main glacier. Turn right, north, and proceed approximately 2.4 miles (3.8 kilometers) to the junction with the East Fork. Follow an easterly course up the left center of the glacier as it curves to the north to meet the mountain's South Face.

An advance base camp on the left side of the glacier near Kahiltna Notch is safer than once closer to the base of the icefall. Large avalanches have beene observed descending the icefall and running across the East Fork of the glacier.

The icefall that descends from the South Buttress to the East Fork is constantly moving and changing from season to season and day to day. A route that is relatively safe on one day may be too hazardous to risk the next. Generally, the line is safer in May when conditions are colder and more stable than in late June or July. Most expeditions climbing the route have favored the left side of the icefall, taking what protection is available from rock buttresses and seracs.

The crest of the South Buttress is reached at an altitude of 15,500 feet (4,725 meters). Follow the crest of the ridge north toward the South Face.




Mt. McKinley Summit 1:25,000 scale - adapted from U.S.G.S.
West Buttress West Rib Cassin Ridge South Buttress



From the base of the pyramidal face, ascend a prominent snow couloir on the left that offers access to the skyline ridge at 16,800 feet (5,121 meters). Follow the ridge on mixed snow and rock to a good campsite at 17,800 feet. Bearing left from the ridge, a prominent 50 degree snow couloir gives way to a snowfield which provides access to the summit ridge. Follow the curving arc of the ascending summit ridge in a northwesterly direction to the South Summit.

CAMPS: Ten camps are normally made by parties ascending the South Buttress Route.

Camp 1 7,000 ft. 2,134 m.
Camp 2 7,200 ft. 2,195 m.
Camp 3 7,800 ft. 2,377 m.
Camp 4 8,600 ft. 2,620 m.
Camp 5 9,500 ft. 2,956 m.
Camp 6 10,800 ft. 3,291 m.
Camp 7 12,000 ft. 3,658 m.
Camp 8 14,800 ft. 4,511 m.
Camp 9 15,600 ft. 4,755 m.
Camp 10 17,800 ft. 5,425 m.




| HOME | Cassin Ridge | Muldrow Glacier |
| South Buttress | West Buttress | West Rib |