Climbing Alaska's
Mt. McKinley has been described alternately
as a long walk in the snow, or as one of the most difficult high mountain ascents in
the world, depending


The Expedition
That Fell From
The Sky

on the route being climbed and conditions encountered along
the way. Even in mid summer, conditions on North America's tallest mountain are arctic in character. During the two- to four-week ascent, most parties encounter
temperatures ranging from + 70° to - 40° F.
(+ 27° to - 40° C.). Winds in excess of 100 m.p.h. (160 k.p.h.) are not uncommon.


Individual storms sometimes last two weeks, making it imperative that climbers prepare for at least a month's climb on easier routes and as much as six weeks on difficult routes. Although nearly 3,000 climbers have stood on its 20,320-foot (6,194-meter) summit since the first ascent in 1913, none have treated the mountain casually. Over forty have died on its slopes. As on big mountains elsewhere, hidden crevasses have taken unnecessary lives. Climbers should always travel roped, no matter how easy the terrain appears. Expeditions
planning to attempt
Mt. McKinley must register at least two months in advance with the National Park Service and should complete all preparations before coming to Alaska, including arrangements for a radio and charter air transportation. Climbers should also plan on removing all their equipment and trash from the mountain.


West Buttress
Westliche Stützmauer
Le Contrefort
de l'Ouest

South Buttress
Südliche Stützmauer
Le Contrefort du Sud

Muldrow Glacier
Muldrow Gletscher
Le Glacier Muldrow

West Rib
Westliche Rippe
La Côte de l'Ouest

Cassin Ridge
Cassin Kamm
La Crête Cassin

Coming Soon
Doug Scott &
Dougal Haston's
South Face Direct

Notice & Disclaimer

This map and the climbing descriptions can only serve as general guides to the
five major routes on
Mt. McKinley because
of daily and seasonal conditions. On a big mountain, no guide
or map can safely be substituted for good
mountaineering
judgement.

Copyright © 2001
by Dennis Cowals.
All rights reserved.

Ice axe and rope logo copyright © 2001
by Dennis Cowals.

Mountaineers edition copyright © 1981
by Dennis Cowals
ISBN 0-89886-020-2.

Original edition
copyright © 1976
by The Alaska
Alpine Company.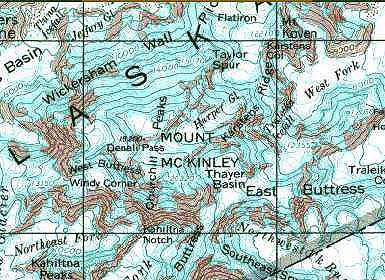 Mt. McKinley 1:250,000 scale - U.S. Geological Survey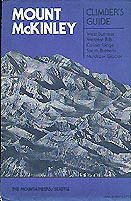 Denali National
Park & Preserve
Mountaineering
Guidelines,
Regulations
& Information

Mountaineering in
Denali National Park
& Preserve
National Weather Service
Alaska Region
Denali National Park
Weather Forecast
Wind Chill Calculator


North to Alaska?
These friends
are good folks
to contact.
We've shared
many climbs,
rescues and
adventures
over the years.
Muldrow Glacier
Muldrow Gletscher - Le Glacier Muldrow

FIRST ASCENT: March 17 to June 7, 1913 by the Rev. Hudson Stuck, Harry P. Karstens, Robert G. Tatum and Walter Harper. After leaving Nenana by dog team, the party followed the overland route pioneered in 1910 by the Sourdough Expedition to reach McGonagall Pass and the Muldrow Glacier. Once on the ice, they followed the line of the unsuccessful Parker-Browne Expedition but had to force a new route up the earthquake-shattered ridge that now carries Karstens' name to gain the stepped basins of the Harper Glacier. From their high camp, the way to the South Summit was arduous but straightforward.

POINT OF DEPARTURE: Wonder Lake
ALTITUDE GAIN: 18,335 feet (5,589 meters)
ROUND TRIP DISTANCE: 72 miles (116 kilometers)
TIME: 21 to 35 days
CRUX: Karstens Ridge and the Coxcomb between 10,930
feet(3,331 meters) and 14,600 feet (4,450 meters)
SPECIAL EQUIPMENT: 600 to 1,800 feet (200 to 600 meters)
of fixed rope and 12 snow pickets to protect exposed
sections of the knife-edge ridge

ROUTE: Since climbers are not permitted by the National Park Service to use air support within park boundaries, parties attempting the Muldrow Glacier Route must walk in from Wonder Lake during the summer months, or use skiis and dog teams to reach the glacier from the park entrance during the late spring, an overland distance of nearly 84 miles (138 kilometers).

The more popular approach from Wonder Lake descends to the McKinley River and then follows the East Fork of Clearwater Creek to Cache Creek and McGonagall Pass, a distance of 22 miles (35 kilometers). Depending on the loads being carried and the difficulties encountered in fording the McKinley River, the trek may take from two to four days.

From McGonagall Pass at 5,720 feet (1,743 meters), the route generally follows the right or northern side of the Muldrow Glacier up to the Lower Icefall over a distance of 5 miles (8 kilometers).

Since the Muldrow is one of McKinley's most active glaciers, the route description for the lower section must be generalized. Some parties have reported traveling over what might as well have been two completely different glaciers during ascent and descent.

Most climbers force a way through the Lower Icefall along its right margin and pass along the base of Pioneer Ridge beneath a potentially dangerous hanging glacier. From this point, the route regains the left center of the Muldrow and zig-zags upward to the 8,500-foot (2,591-meter) level opposite the base of Mt. Carpe. Here, at the base of the Great Icefall, turn left and proceed south along the flanks of Mt. Carpe and Mt. Koven toward Karstens Notch at 10, 930 feet (3,331 meters).

From the notch, gain the knife edge of Karstens Ridge and proceed upward for 1.2 miles (1.6 kilometers) to the prominent step at 12,000 feet (3,688 meters). This is the only good campsite on the ridge itself. Continue along the ridge through the rugged Coxcomb section to Browne Tower at 14,600 feet (4,450 meters.)

The ridge is the crux of the climb. Early in the season, Karstens Ridge and the Coxcomb tend to be more icy than in late June or July when new snow sometimes requires climbers to shovel their way upward. As much as 1,800 feet or as little as 600 feet of fixed rope (600 or 200 meters) may be needed to safeguard difficult sections of the route depending on conditions.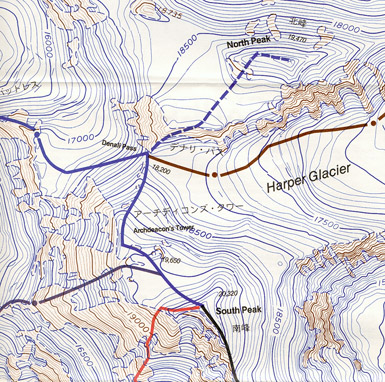 Mt. McKinley Summit 1:25,000 scale - adapted from U.S.G.S.

West Buttress Muldrow Glacier
West Rib Cassin Ridge South Buttress



From the granite blocks of Browne Tower move up and right, north, through Parker Pass -- the name Hudson Stuck gave the broad gateway to the stepped basins of the Harper Glacier -- and find a passage through the first icefall at 16,000 feet (4,877 meters) along its right margin. Continue upward through the second icefall at 17,000 feet (5,182 meters). Once through the the second series of ice blocks, continue in a southwesterly direction toward the prominent notch in the skyline, Denali Pass.

At the 18,320-foot (5,584-meter) pass, turn right and climb a broad snow ramp running northeast to the North Summit, or turn left and ascend the ridge that fishhooks to the southeast to reach the 20,320-foot (6,194-meter) South Summit.

CAMPS: Seven or eight camps are normally made in the course of ascending the Muldrow Glacier route. Parties prepared for high winds and a spectacular view sometimes camp at the base of Browne Tower (14,600 feet), while those preferring a secure night's sleep camp in the lower basin of the Harper Glacier at the 15,000-foot level. Climbers planning to traverse the mountain and descend via the West Buttress route set their highest camp below Denali Pass. Those planning to descend via the Muldrow Glacier route normally do not.

Camp 1 5,720 ft. 1,743 m.
Camp 2 6,500 ft. 1,981 m.
Camp 3 8,500 ft. 2,591 m.
Camp 4 10,800 ft. 3,292 m.
Camp 5 12,100 ft. 3,688 m.
Camp 6 (view) 14,600 ft. 4,460 m.
Camp 6 (sleep) 15,000 ft. 4,572 m.
Camp 7 16,400 ft. 4,999 m.
Camp 8 17,900 ft. 5,455 m.




| HOME | Cassin Ridge | Muldrow Glacier |
| South Buttress | West Buttress | West Rib |