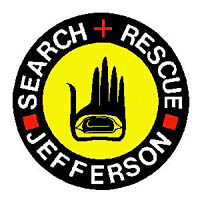 Jefferson Search And Rescue volunteers proudly wear a distinctive emblem adapted from a traditional Northwest Coast Indian totem. The insignia depicts the all-seeing eye of a searcher on the open palm of a rescuer's helping hand. The design is also a reminder of the Northwest's long-standing tradition of neighbors helping neighbors.


N.O.A.A. Aviation,
Marine, Mountain
& River Forecasts
Washington Tides
Olympic Region
- WA DOT
Hood Canal Bridge
Magnetic Declination
Sunrise / Sunset
THE TEN ESSENTIALS

1. Map
2. Compass
3. Extra Clothing
4. Extra food and water
5. First Aid Kit
6. Waterproof flashlight
7. Fire starter
8. Waterproof matches
9. Sunglasses
10. Pocket knife


Check the weather forecasts before any wilderness outing and dress in layers. Rain gear, a stocking cap, signal whistle and leather work gloves are useful at any time of year. Don't forget prescription medications, insect repellent and sunscreen. A water filter is a new "essential" for many backcountry trips. Carry large plastic bags for improvised shelter or rain gear. Please pack out your trash!

The Ten Essentials and expert local knowledge about trails, destinations and current conditions are available from:

SPORT TOWNSEND
1044 Water Street (360) 379-9711

KAYAK PORT TOWNSEND
435 Water Street (360) 385-6240

P.T. CYCLERY
100 Tyler Street (360) 385-6470

| Home | JSAR | Contact | Jefferson County | Ten Essentials |
| Trip Plan | Mission Planner | ARES/RACES |
| Washington SAR | Port Townsend Guide |

Jefferson Search And Rescue is a Washington non-profit corporation. Volunteer members are dedicated to search and rescue and public education services for the people of Jefferson County and the entire Olympic Peninsula. JSAR missions are directed by the Jefferson County Sheriff's Office which has legal responsibility under Washington State law (RCW Chapter 38.52) for all search and rescue activities in the county. Since its founding in 1976, JSAR members have contributed thousands of hours of community service in searches, rescues and demanding training missions to give members the skills required by state and national rescue agencies. Membership in JSAR and JCARES is open to any qualified resident of Jefferson County, Washington.


---
Contact Terms of Use Privacy Statement Notice and Disclaimer
Copyright © 2000 Dennis Cowals All rights reserved.